Barbie and River is the first couple of My Scene.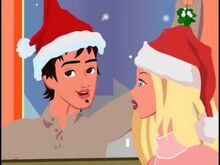 Their Relationship
Edit
They started dating in Night on the Town and River told the boys that during their date, River ripped his pants while dancing. Barbie later kissed him on the cheek at the end of that webisode. They hug and go on a date in the Getting Ready webisode. River asked Barbie out in Hanging Out and then they shared a kiss. In My Scene: Jammin' in Jamaica, they nearly broke up when Barbie spotted River hugging Madison and spending time with her, causing the girls to have a rift, but in the end, their problems were resolved and River confessed that Barbie was the only one he had feelings for. River dedicated the song Going Down In Flames to "his girlfriend" Barbie at the end of the movie. They kiss under a mistletoe in Greatest Gifts.
Doll Set(s)
Edit
They were sold together in the Night On The Town set that focused on their date night together. They were sold again as a couple in the Jammin' in Jamaica Cruisin' the Boardwalk set.