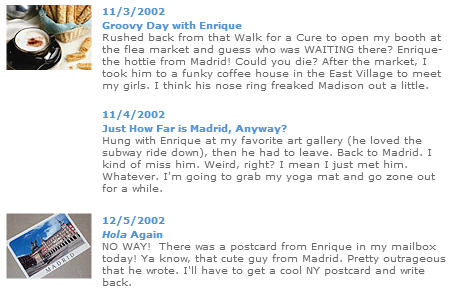 Enrique
is a teenage boy that is from Madrid, Spain.
Chelsea
wrote about him in her diary in 2002. On March 11th, Chelsea and her friends attended a Walk for a Cure event (referred to as Women's Cancer Walk in
Madison
's journal), a fundraiser to fight women's cancers. She went to her local flee market to open her booth and Enrique was waiting there for her.
Enrique went with Chelsea to a coffee house in the East Village to meet her friends. Chelsea thought that Enrique's nose ring made Madison a bit nervous.
A month later, on April 11th, Enrique and Chelsea took a subway ride to her favorite art gallery. Chelsea said that he loved the ride. Afterwards, he went back to Madrid. Chelsea wrote that she missed him even though she had just met him. On May 12th, Enrique sent Chelsea a Madrid postcard in the mail, so she wanted to write back with a cool New York postcard.