We're Getting Mutants in the MCU - The Loop
Play Sound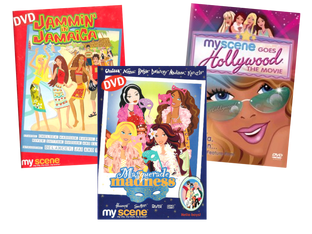 The three films are from Lionsgate:
My Scene: Jammin' in Jamaica was the first My Scene movie, released on DVD in early 2004 and it was sold with the "Jammin' in Jamaica" dolls. It was directed by Eric Fogel, the creator of Celebrity Deathmatch. Madison is manager of a band called Urban Desire, which is made up of the four male characters. When the band wins a contest, they make a trip to Jamaica for the finals, but Barbie, Nolee, and Chelsea must raise the money to travel to Jamaica. After all the characters arrive in Jamaica, Barbie feels left out as her boyfriend, the lead guitarist, begins spending more time with Madison. This causes a rift between the friends but is eventually resolved.
My Scene: Masquerade Madness was the second My Scene movie, released on DVD, running 28 minutes long, half the length of Jammin' in Jamaica. This movie is centered around the Masquerade Madness fashion show, a fundraiser for the local animal shelter. Chelsea designs the fashions for the show all on her own, causing strain on her schoolwork. Failing in geometry and too embarrassed to tell her friends, she calls on Hudson's help in tutoring. As a result, her friends begin to think they are secretly dating. By the end, Chelsea has aced her geometry test and coordinated a successful fashion show. The movie was sold with the My Scene "Masquerade Madness" dolls.
My Scene Goes Hollywood was the third My Scene movie, released on DVD, first to be sold apart from the dolls and the only full-length movie. The film was directed by Eric Fogel and distributed by Miramax Family Films. It featured a voice-over by actress and singer Lindsay Lohan, who plays herself in the movie. Kelly Sheridan of the Barbie film series takes over the role of Barbie. In order to see it up close, the My Scene girls pretend to be extras in a spy action movie being filmed in New York City. When one of the actresses is injured, Madison is called upon to take her place. She begins spending less and less time with her friends and develops a crush on the leading actor, Ryan Ridley. Madison ends up fighting with her friends because they embarrass her. In the end, Lohan convinces Madison that friends are the most important thing to have, and the girls make up. Although the title suggests a trip to Hollywood, Los Angeles, the whole movie actually takes place in New York City.