Nolee and Bryant is the fourth My Scene couple.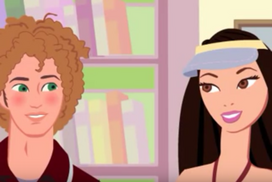 Their Relationship
Edit
Bryant was first seen with Hudson checking some girls out, Both of them spotted Nolee at the park in Game On, and Bryant asked Hudson if she's a "groupie or skater chick?" and Hudson replied that she's a 'skater chick.'
According to Rumor Has It, they dated until Bryant moved to England, but he sent her a letter in Greatest Gifts and named a star after her.